200ZJ-70 high chrome ash slurry pump
Product Detail
Material
Product Tags
 ZJ SLURRY PUMP DETAILS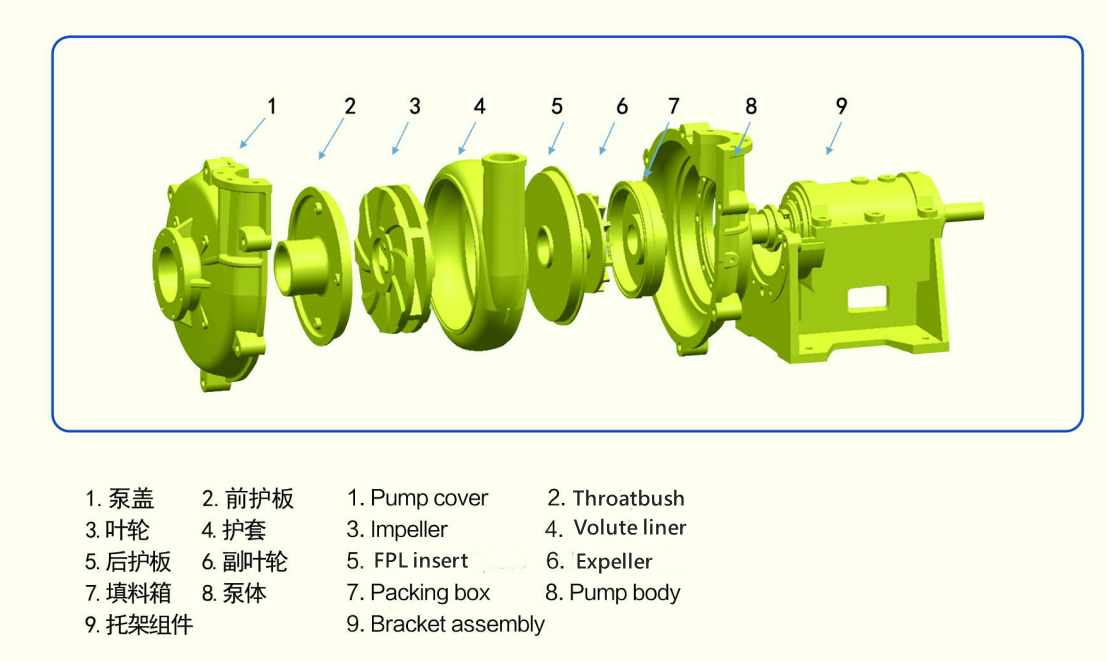 ZJ series of products are widely used in metallurgy, steel plant, coal preparation, mineral processing, alumina and fuel gas desulphurization. Peripheral system. It is mainly used to transport the abrasive slurry containing solid particles, such as the feed pump of the mine. Transportation of various kinds of concentrate and tailings, transport of coal in power plant slag removal,  slag removal in steel plant and coal preparation plant, heavy medium and so on. The weight of the slurry can reach to 60% of the pulp.  
1. The wet parts for slurry pump are made of wear-resistant high chromium alloy or rubber, customized according to buyer's requirements.
2. Slurry pump's bearing assembly use cylindrical structure, adjusting the space between impeller and front liner easily. They can be removed completely when being repaired. Bearing assembly use grease lubrication.
3. The shaft seal could use the packing seal, expeller seal and mechanical seal.
4. The discharge branch can be positioned at intervals of 45 degrees by request and oriented to any eight positions to suit installations and applications.
5. There are the drive types, such as V belt drive, gear reducer drive, fluid coupling drive, and frequency conversion drive devices for the slurry pump.
6. Wide performance, good NPSH and high efficiency. The slurry pump can be installed in multistage  series to meet the delivery for long distance.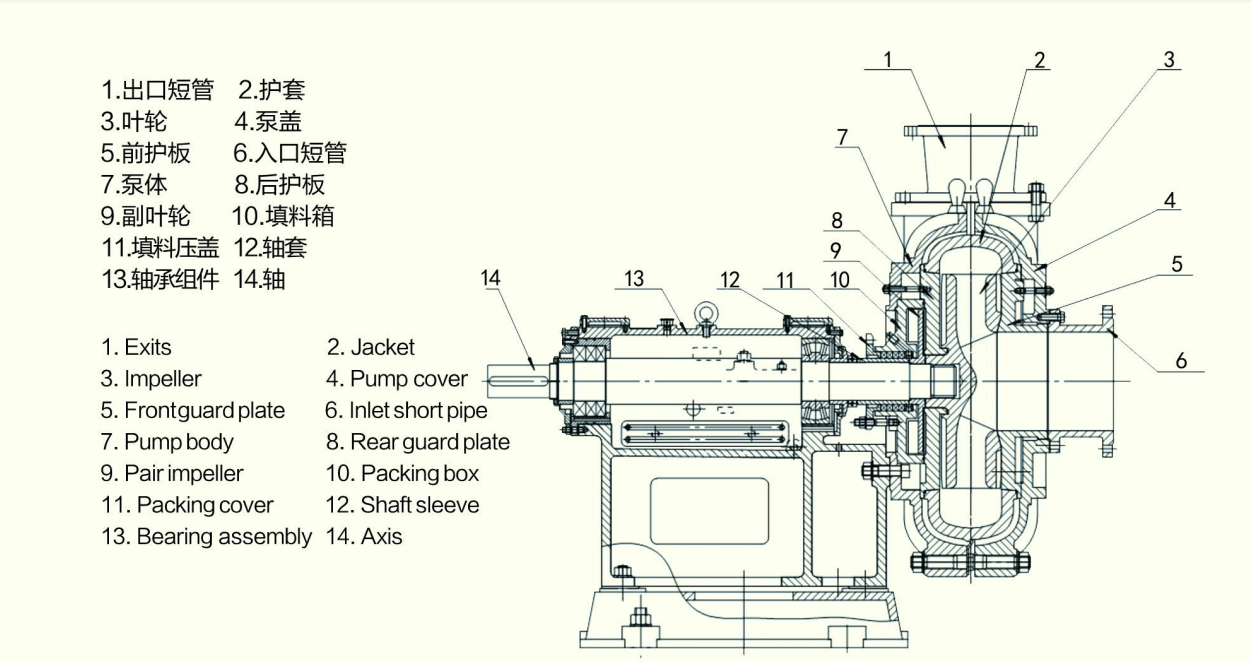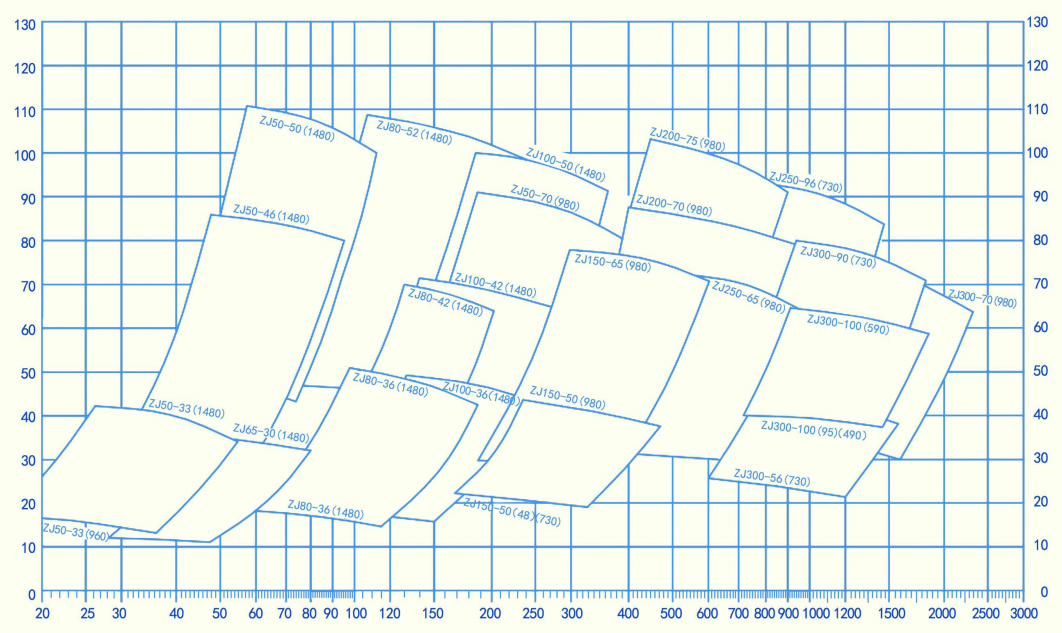 ZJ Slurry Pump Technical Data
Size
Capacity(m3/h)
Head(m)
Max.Power(KW)
Speed(r/min)
NPSHm
40ZJ

5.0-20

6.0-29

4

1390-2890

2.5
50ZJ
12-

39

2.6-10.2

4

940-1440

 2.5
65ZJ
20-

80

7.0-33.6

15
700-1480

3

80ZJ
4

1

-2

60

8

.4-70.6

75

700-1480

3.5

100ZJ
5

7

-36

0

7.7

-10

1.6

160
700-1480

4.1

150ZJ
93-600

9.1-78.5

200

500-980

3.9

200ZJ

215-900

215-900

355

500-980

4.4

250ZJ

281-1504

13.1-1

10.5

800

500

-980

5.3

300ZJ

403

-2

166

10.0-78.0

630

400-590

4.8
ZJ slurry pump application 
The pumps can be used in many applications, such as Pipeline transport, High velocity hydraulic transport, Mineral processing, Coal prep, Cyclone feeds, Aggregate processing, Fine primary mill grinding, Chemical slurry service, Tailings, secondary grinding, Industrial processing, Pulp and paper, Food processing, Cracking operations, Ash handling.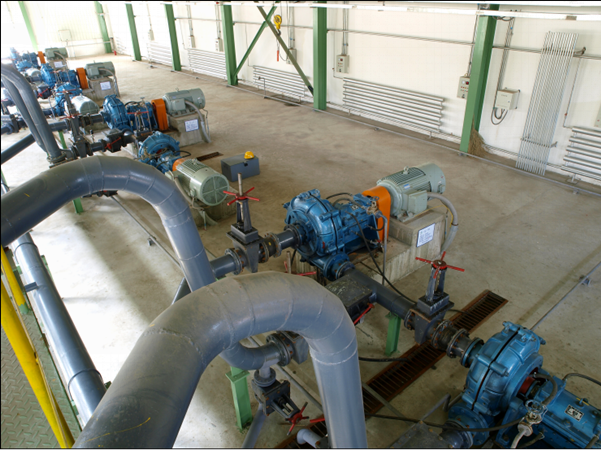 ZJ Slurry Pump Package and Shipping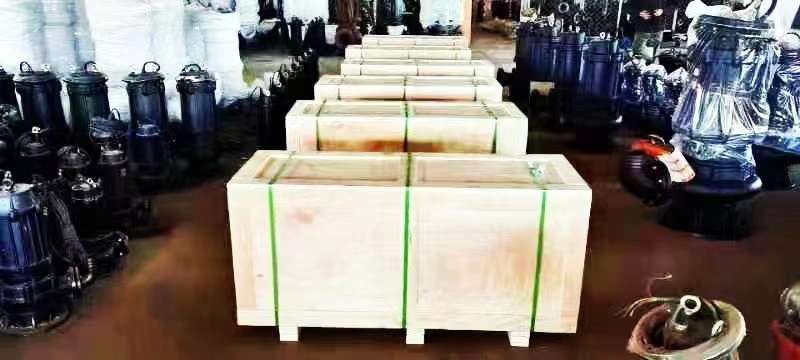 The slurry pump or slurry pump parts will be packed in wooden case.
We will paste the shipping mark on the package according to buyer's requirements.
For more information about our pumps, please send email to: rita@ruitepump.com
---
---
TH Cantilevered, Horizontal, Centrifugal Slurry Pump Material:
| | | |
| --- | --- | --- |
| Material Code | Material Description | Application Components |
| A05 | 23%-30% Cr White Iron | Impeller, liners, expeller, expeller ring, stuffing box |
| A07 | 14%-18% Cr White Iron | Impeller, liners |
| A49 | 27%-29% Cr Low Carbon White Iron | Impeller, liners |
| A33 | 33% Cr Erosions & Corrosion Resistance White Iron | Impeller, liners |
| R55 | Natural Rubber | Impeller, liners |
| R33 | Natural Rubber | Impeller, liners |
| R26 | Natural Rubber | Impeller, liners |
| R08 | Natural Rubber | Impeller, liners |
| U01 | Polyurethane | Impeller, liners |
| G01 | Grey Iron | Frame plate, cover plate, expeller, expeller ring, bearing house, base |
| D21 | Ductile Iron | Frame plate, cover plate, bearing house, base |
| E05 | Carbon Steel | Shaft |
| C21 | Stainless Steel, 4Cr13 | Shaft sleeve, lantern ring, lantern restrictor, neck ring, gland bolt |
| C22 | Stainless Steel, 304SS | Shaft sleeve, lantern ring, lantern restrictor, neck ring, gland bolt |
| C23 | Stainless Steel, 316SS | Shaft sleeve, lantern ring, lantern restrictor, neck ring, gland bolt |
| S21 | Butyl Rubber | Joint rings, joint seals |
| S01 | EPDM Rubber | Joint rings, joint seals |
| S10 | Nitrile | Joint rings, joint seals |
| S31 | Hypalon | Impeller, liners, expeller ring, expeller, joint rings, joint seals |
| S44/K S42 | Neoprene | Impeller, liners, Joint rings, joint seals |
| S50 | Viton | Joint rings, joint seals |