4/3C-TH Slurry Pump&spare parts Factory outlet from China
Product Detail
Material
Product Tags
TH series are single-stage, single-suction, cantilever, double-shell, horizontal centrifugal slurry pumps.They are widely used in mining, metallurgy, coal washing, power plant, sewage water treatment, dredging, and chemical and petroleum industries for Conveying strong corrosive, high-concentrative slurries.Especially suitable for a variety of harsh working conditions, it is the first choice for the transportation of mine mill slurry and tailings slurry.They are mainly used for mill underflow, cyclone feeding, flotation, tailings efflux, sand removal, dredging, FGD, heavy media, ash removal, etc.
Diameter: 25mm~450mm
Power: 0-2000kw
Flow rate: 0~5400㎥/h
Head: 0~128m
Speed: 0~3600rpm
Material: high chrome alloy or rubber
Shijiazhuang Ruite Pump Co.Ltd
Abrasion Resistant Solid Handling Centrifugal Sand Washing Slurry Pump
TH series Centrifugal Horizontal Heavy Duty Slurry Pumps are designed for handling highly abrasive,high density slurries with excellent wear life while maintaining efficiency during the wear cycle providing the best total operating cost.
1. Cylindrical structure of bearing assembly: convenient to adjust the space between impeller and front liner and can be removed completely;
2. Anti-abrasion wet parts: The wet parts can be made of pressure molded rubber. They are completely interchangeable with metal wet parts.
3. The discharge branch can be oriented to any eight positions at the interval of 45 degrees;
4. Various drive types: DC(direct connection), V-belt drive, gear box reducer, hydraulic couplings, VFD, SCR control, etc;
5. The shaft seal uses the packing seal, expeller seal and mechanical seal;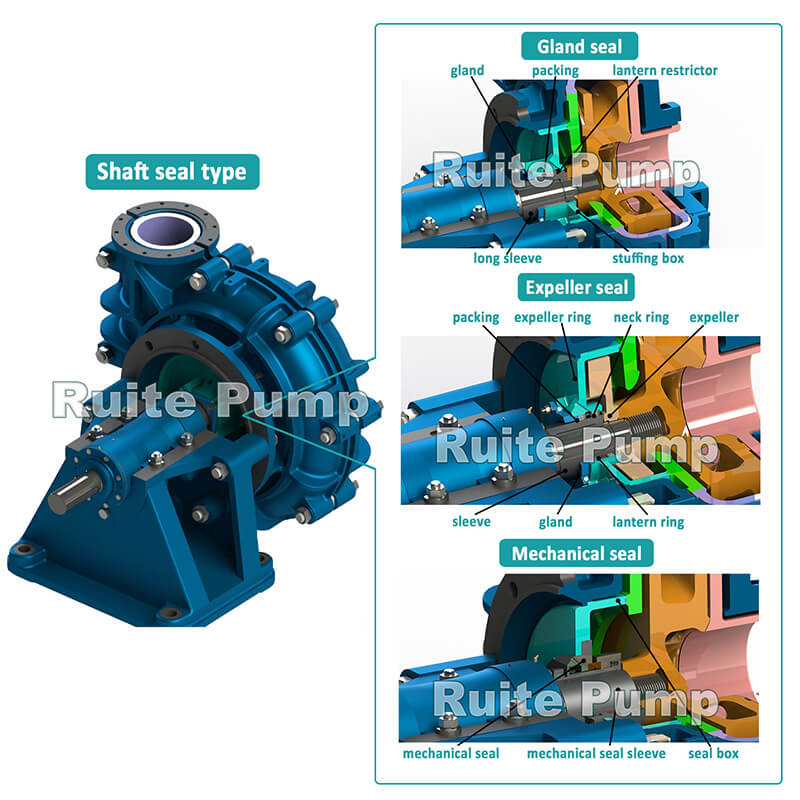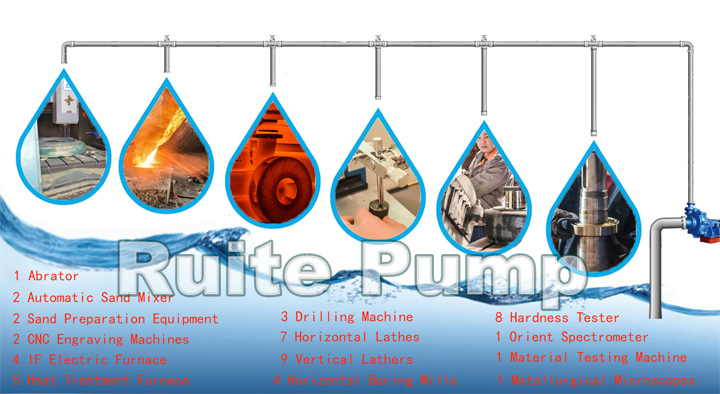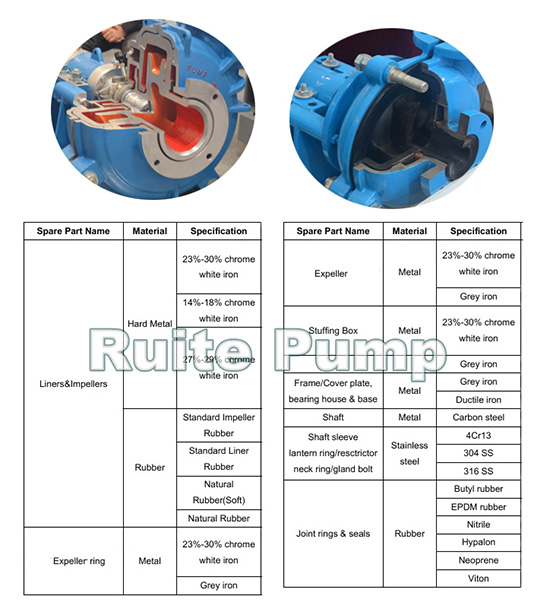 Shijiazhuang Ruite pump is a modern factory focusing on slurry pump research, production, sales and service. It owns advanced CFD designs, which make it the first to use coated sand casting process to produce slurry pump in China.
We can produce 12000 tons of high chromium alloy per year. OEM and ODM is acceptable. We have passed the certification of three systems, the products are sold very well all over the world. Welcome to visit, thank you.
Shijiazhuang Ruite Pump Co., Ltd is one of the high-tech enterprises which has research & deyelopment, design, production and sales systems. Quality first, credit standing paramountcy is our service tenet. Innovation, do the scientific-technological advocates is our development goals, supplythe best quality and service is our business philosophy.Shijiazhuang ruite pump Co..Ltd is located in shijiazhuang city hi-tech industrial zone, founded in 2003, and has passed ISO9001:2008quality management system certification, the registered capital of 15 million RMB, more than 300 employees, with a construction area of 30000 square meters, respectively the casting, heat treatment, machining, product assembly workshops, advanced and complete production line, production strength, processing equipment.The main products are slurry pump, dredge pump, gravel pump, desulfurization pump, chemical pump, sewage pump, clean water pump and so on more than 30 series of industrial pump products.which are widely used in mining, metallurgy, coal, electric power, petroleum, chemical industry.building materials, paper, pharmaceutical, and other industries. The company product sales all over China and exported to Russia, South Africa, the Philippines, Australia, India, and other countries and regions. The professional pre-sale, sale and after-sale service, high quality products for Ruite Pump to win the customer praise.Ruite Pump, best quality, your right choice.We are confident that we can offer customers satisfying products and services with our continuous efforts in product research and improvement.We look forward to working with customers to build a promising future.
---
---
TH Cantilevered, Horizontal, Centrifugal Slurry Pump Material:
| | | |
| --- | --- | --- |
| Material Code | Material Description | Application Components |
| A05 | 23%-30% Cr White Iron | Impeller, liners, expeller, expeller ring, stuffing box |
| A07 | 14%-18% Cr White Iron | Impeller, liners |
| A49 | 27%-29% Cr Low Carbon White Iron | Impeller, liners |
| A33 | 33% Cr Erosions & Corrosion Resistance White Iron | Impeller, liners |
| R55 | Natural Rubber | Impeller, liners |
| R33 | Natural Rubber | Impeller, liners |
| R26 | Natural Rubber | Impeller, liners |
| R08 | Natural Rubber | Impeller, liners |
| U01 | Polyurethane | Impeller, liners |
| G01 | Grey Iron | Frame plate, cover plate, expeller, expeller ring, bearing house, base |
| D21 | Ductile Iron | Frame plate, cover plate, bearing house, base |
| E05 | Carbon Steel | Shaft |
| C21 | Stainless Steel, 4Cr13 | Shaft sleeve, lantern ring, lantern restrictor, neck ring, gland bolt |
| C22 | Stainless Steel, 304SS | Shaft sleeve, lantern ring, lantern restrictor, neck ring, gland bolt |
| C23 | Stainless Steel, 316SS | Shaft sleeve, lantern ring, lantern restrictor, neck ring, gland bolt |
| S21 | Butyl Rubber | Joint rings, joint seals |
| S01 | EPDM Rubber | Joint rings, joint seals |
| S10 | Nitrile | Joint rings, joint seals |
| S31 | Hypalon | Impeller, liners, expeller ring, expeller, joint rings, joint seals |
| S44/K S42 | Neoprene | Impeller, liners, Joint rings, joint seals |
| S50 | Viton | Joint rings, joint seals |