High efficiency, wear-resisting TQ submersible slurry pump
Product Detail
Material
Product Tags
RT TQ Submersible Slurry Pumps are heavy duty agitator submersible slurry pumps, dredge Pumps, sand Pumps, and sludge Pumps in the Industry, capable of handling slurry, sand, gravel, solids and all kinds of sludge in diverse applications related to the dredging, construction, oil and mining industry as well as marine, energy, and industrial sectors. TQ Submersible Slurry Pumps deliver massive solids production at very low operational costs. Hydroman offers the highest head submersible, largest capacity, heavy duty slurry pumps available on the market.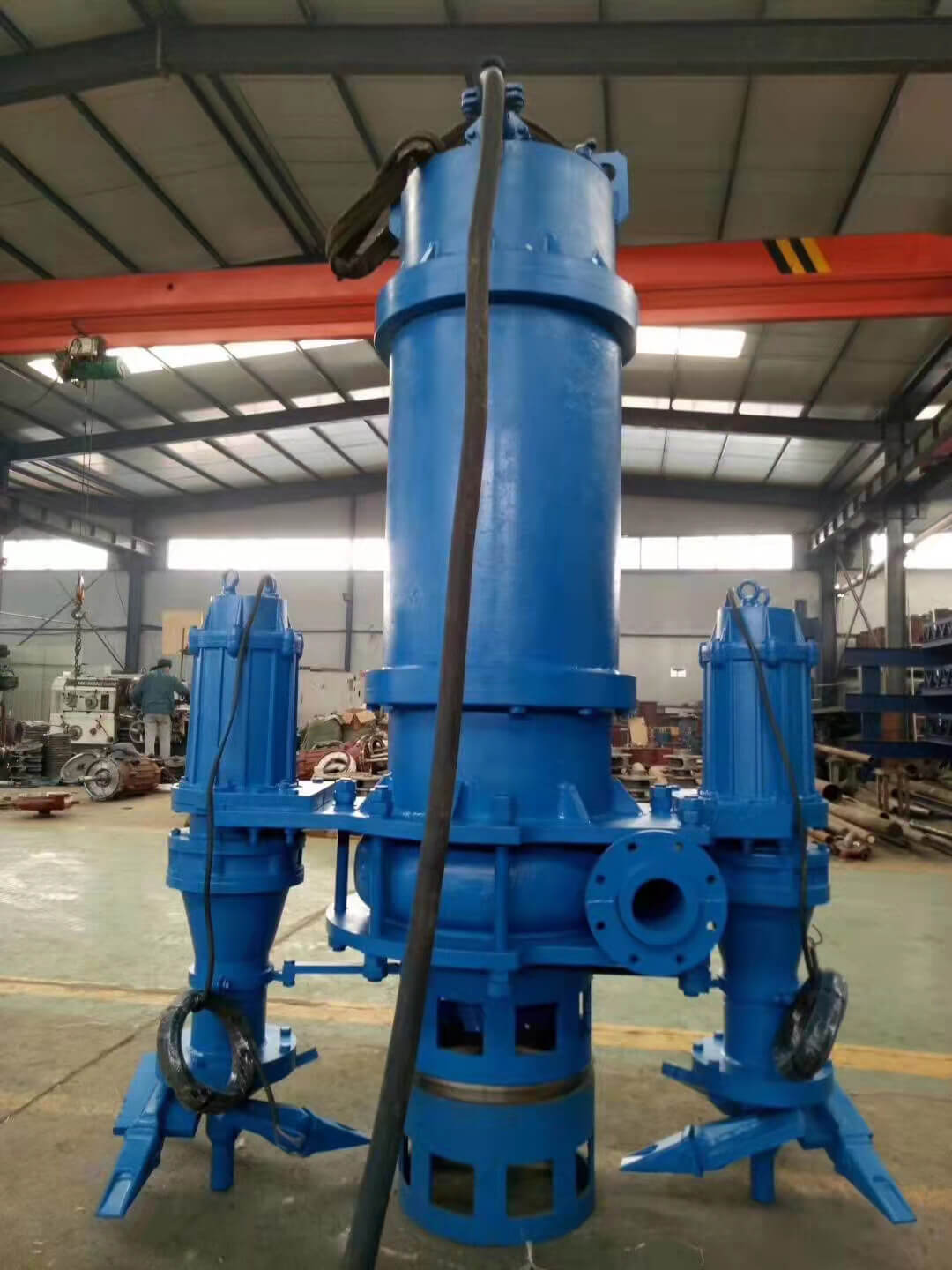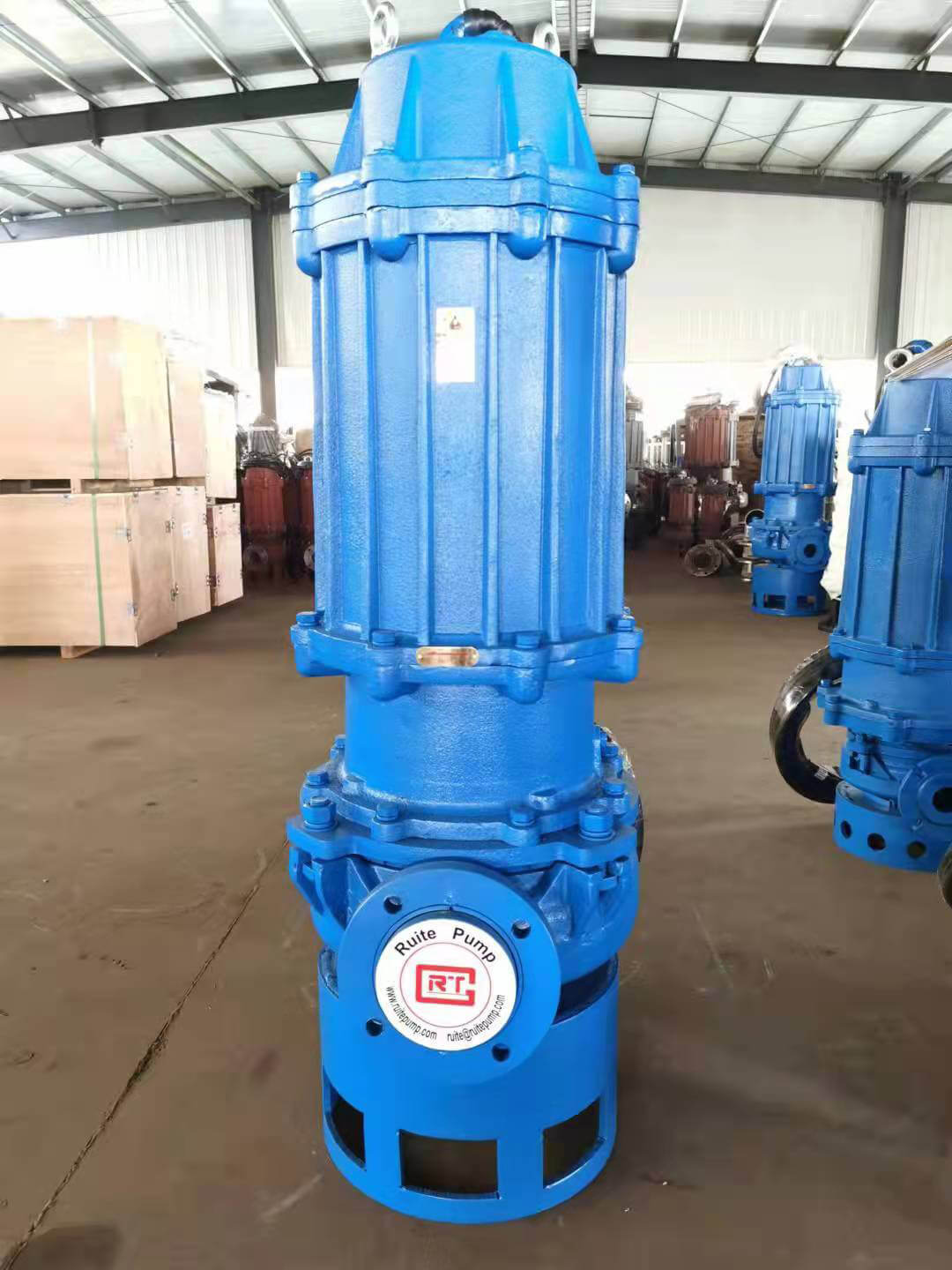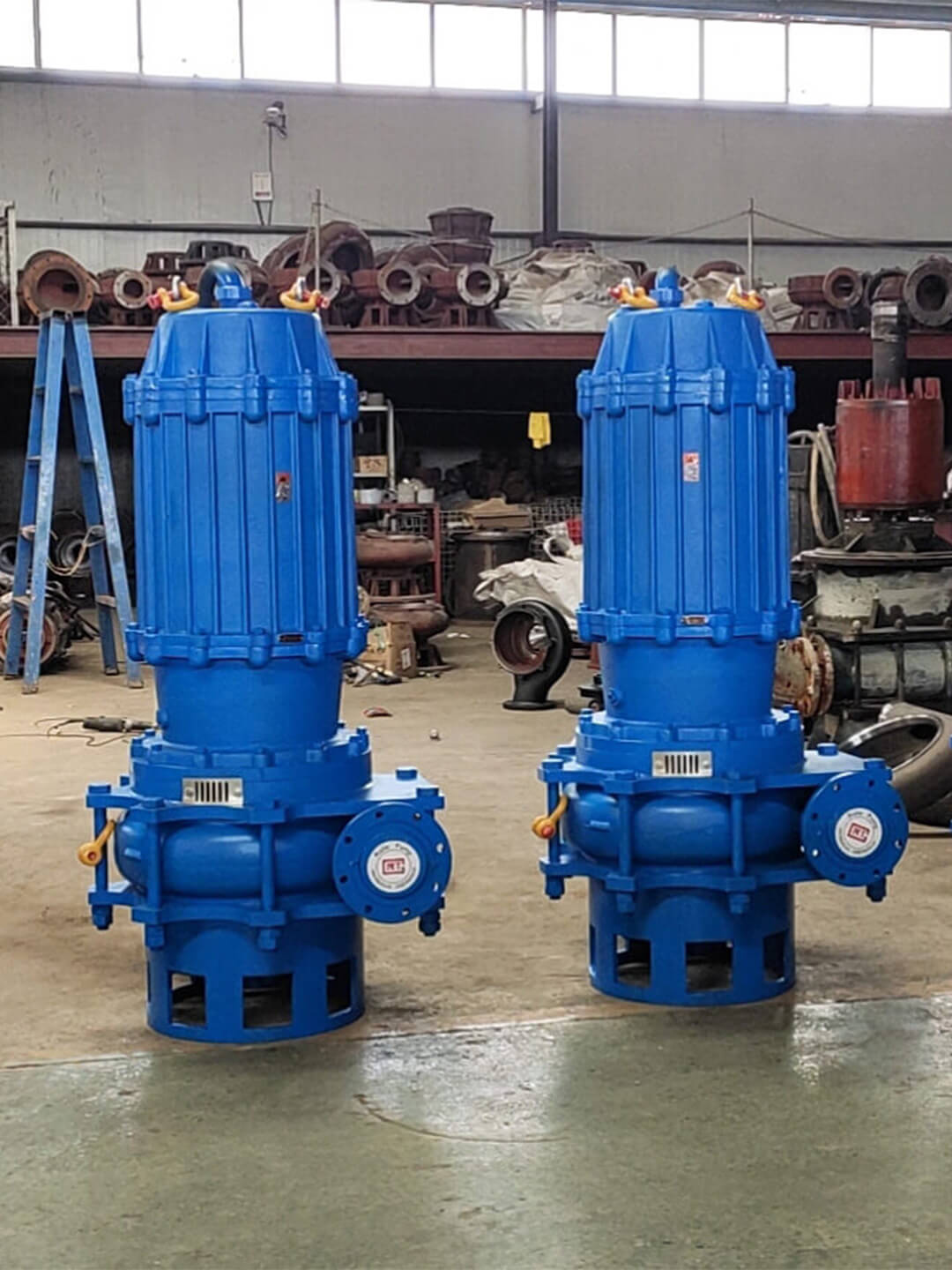 √ HIGH-EFFICIENCY HIGH CHROME REVERSIBLE AGITATOR
Doubles the life of the agitator. The excavating action is created by the hardened high chrome agitator blades. They create a current that lifts settled sediments conveying them to the suction of the impeller which delivers a continuous flow of solids to the pump discharge.
√ LOW OPERATING RPM
Low operating RPM promotes low wear rates and extended component life. When compared to other pumps of similar capacity Hydroman has a lower operating speed.
√ OVERSIZED MOTORS
All Hydroman electric motors are oversized and are designed for slurries up to 1.6 SG. A Hydraulic drive version is also available providing higher output. RT hydraulic augers THY can be attached directly to the pump creating a self-contained excavating system for hard compacted sand where a mechanical excavator would otherwise be required.
√ ROBUST CONSTRUCTION
Long life and reliability are guaranteed by robust heavy-duty construction. Extra strong wear components provide extended life between spare paRT  changes. All paRT s that are exposed or subjected to abrasive wear are manufactured in GS 500 or Hi Chrome alloys.
√ THRUST BEARINGS
All Hydroman models have been designed with dual thrust bearings to reduce vibration and counter thrust loads in both directions.
√ SOLIDS HANDLING CHARACTERISTICS
RT slurry pump paRT s have been specially designed and shaped to provide outstanding performance, providing superb solids handling capabilities but with reduced wear and solid size up to 5 inch (120 mm).
√ STRUCTURAL CHARACTERISTICS
Adjustable Hi-Chrome suction side Wear Plate maintains maximum performance for extended periods by a simple adjustment of the gap between the wear plate and the impeller.
Service Bolt: These bolts allow easy pump disassembly, a built-in service tool.
Replaceable wear paRT s: casings, impellers, wear plates all can be replaced independently
Lube oil inspection poRT s: A wide-angle poRT  outside the pump ensures easy inspection of shaft seal oil levels as well as providing easy access for oil replacement.
√ LARGEST RANGE OF SUBMERSIBLE PUMPS
From 5 HP to 400 HP and discharge diameters from 3" to 16"
√ HIGH HEAD PUMP IN THE MARKET
Handling slurries of up to 1.6 SG.
√ OPTIONAL MECHANICAL SEAL, LIP SEAL OR HYBRID SEAL SYSTEMS
According to the application.
√ CUTTERS HEADS AVAILABLE
Both Hydraulic and Electric, for hard compacted soil.
√ OPTIONS FOR SEVERAL APPLICATIONS
High chrome casing, Cooling Jacket, Anti corrosion package, Anti abrasion package, Lower membrane protection, Cutter knife, Temperature and moisture sensors, custom frames to fix the pump in the boom of excavator machines.
RT TQ Submersible Slurry Pumps Applications:
Industry: Pumping industrial waste, extraction of slag, forge scale, cal-cines, sludge, setting sludge, petroleum and tar residues, Thermal Power plants – Ash pits, Construction and public works, IneRT  wash sludge, Marble dust, All types of effluent with solids in suspension, Sewage, De-watering etc
Dredging, Sand & Gravel: Sand extraction and transpoRT , Sand and gravel mining, Dredging harbors and marinas, PoRT  maintenance, Dredging of canals and harbors, Clean-up of rivers, lakes and lagoons, Dam dredging, Beach reclamation, Heavy soils etc
Mining: Mining and tailings reclamation, Clean-up of setting tanks, Extraction of coal, minerals and sand etc.
Offshore: Underwater work, Ecological recovery, Clean-up of locks, Emptying of caissons and bulkheads, Barge transfer etc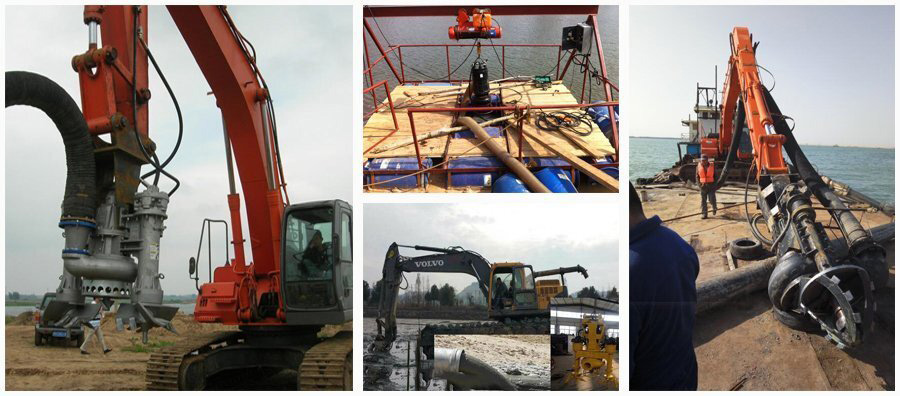 RT TQ Submersible Slurry Pumps Performance Parameters:
No.

Model

Size

(mm)

Capacity Q

(m3/h)

Head H

(m)

Power P

(kw)

Eff. η

(%)

Speed n

(r/min)

Max. paRT icles

(mm)

Weight

(kg)

1

50TQ10-20-3

50

10

20

3

37

1460

8

110

2

50TQ15-18-3

50

15

18

3

46

1460

8

110

3

50TQ20-15-3

50

20

15

3

52

1460

8

110

4

50TQ25-12-3

50

25

12

3

58

1460

8

110

5

65TQ30-12-3

65

30

12

3

60

1460

8

110

6

65TQ35-10-3

65

35

10

3

64

1460

8

110

7

65TQ40-8-3

65

40

8

3

66

1460

8

110

8

50TQ15-22-4

50

15

22

4

43

1460

10

113

9

50TQ18-20-4

50

18

20

4

46

1460

10

113

10

50TQ20-18-4

50

20

18

4

50

1460

10

113

11

50TQ25-20-4

50

25

20

4

52

1460

10

113

12

65TQ30-16-4

65

30

16

4

52

1460

10

113

13

65TQ35-15-4

65

35

15

4

60

1460

10

113

14

65TQ40-12-4

65

40

12

4

63

1460

10

113

15

65TQ45-10-4

65

45

10

4

66

1460

10

113

16

80TQ20-30-5.5

80

20

30

5.5

42

1460

13

205

17

80TQ30-20-5.5

80

30

20

5.5

54

1460

13

205

18

80TQ45-15-5.5

80

45

15

5.5

41

1460

13

205

19

80TQ15-20-5.5

80

15

20

5.5

33

1460

13

205

20

80TQ50-10-5.5

80

50

10

5.5

44

1460

13

205

21

80TQ15-20-7.5

80

15

20

7.5

34

1460

13

210

22

80TQ20-25-7.5

80

20

25

7.5

35

1460

13

210

23

80TQ25-20-7.5

80

25

20

7.5

36

1460

13

210

24

80TQ25-30-7.5

80

25

30

7.5

36

1460

13

210

25

80TQ30-30-7.5

80

30

30

7.5

37

1460

13

210

26

80TQ32-20-7.5

80

32

20

7.5

37

1460

13

210

27

80TQ45-15-7.5

80

45

15

7.5

41

1460

13

210

28

100TQ100-10-7.5

100

100

10

7.5

48

1460

21

220

29

80TQ25-40-11

80

25

40

11

36

1460

13

300

30

80TQ40-25-11

80

40

25

11

38

1460

13

240

31

80TQ50-21-11

80

50

21

11

40

1460

13

240

32

80TQ50-26-11

80

50

26

11

40

1460

13

240

33

80TQ70-20-11

80

70

20

11

43

1460

13

240

34

100TQ100-18-11

100

100

18

11

48

1460

21

240

35

80TQ25-40-15

80

25

40

15

37

1460

13

330

36

80TQ50-26-15

80

50

26

15

40

1460

13

260

37

80TQ50-28-15

80

50

28

15

40

1460

13

260

38

100TQ60-30-15

100

60

30

15

41

1460

13

265

39

80TQ70-24-15

80

70

24

15

42

1460

13

260

40

100TQ75-25-15

100

75

25

15

43

1460

13

260

41

100TQ100-18-15

100

100

18

15

49

1460

21

270

42

100TQ150-15-15

100

150

15

15

51

1460

21

270

43

150TQ150-18-18.5

150

150

18

18.5

49

980

32

550

44

150TQ200-12-18.5

150

200

12

18.5

53

980

45

550

45

150TQ150-22-22

150

150

22

22

47

980

32

600

46

150TQ200-15-22

150

200

15

22

50

980

45

600

47

150TQ60-46-30

150

60

46

30

41

980

14

550

48

150TQ70-38-30

150

70

38

30

42

980

21

710

49

150TQ100-35-30

150

100

35

30

44

980

21

710

50

150TQ108-30-30

150

108

30

30

44

980

21

710

51

150TQ150-30-30

150

150

30

30

46

980

21

710

52

150TQ150-35-30

150

150

35

30

46

980

21

710

53

150TQ200-20-30

150

200

20

30

52

980

21

710

54

150TQ240-20-30

150

240

20

30

55

980

21

710

55

200TQ300-15-30

200

300

15

30

56

980

28

700

56

150TQ100-50-37

150

100

50

37

44

980

21

850

57

200TQ300-20-37

200

300

20

37

56

980

28

775

58

200TQ400-15-37

200

400

15

37

58

980

28

775

59

150TQ150-35-45

150

150

35

45

47

980

36

1000

60

150TQ200-30-45

150

200

30

45

49

980

36

1110

61

200TQ500-15-45

200

500

15

45

59

980

46

1100

62

150TQ150-45-55

150

150

45

55

46

980

21

1140

63

150TQ250-35-55

150

250

35

55

51

980

36

1140

64

250TQ600-15-55

250

600

15

55

60

980

46

1220

65

150TQ200-45-75

150

200

45

75

49

980

21

1540

66

150TQ200-50-75

150

200

50

75

48

980

14

1550

67

200TQ350-35-75

200

350

35

75

53

980

28

1550

68

200TQ400-25-75

200

400

25

75

58

980

25

1550

69

200TQ500-20-75

200

500

20

75

59

980

25

1550

70

150TQ200-60-90

150

200

60

90

48

980

14

1550

71

200TQ400-40-90

200

400

40

90

54

980

28

1550

72

200TQ500-25-90

200

500

25

90

60

980

25

1550

73

200TQ400-50-110

200

400

50

110

53

980

28

1970

74

250TQ600-30-110

250

600

30

110

61

980

28

1970

75

300TQ780-26-110

300

780

26

110

62

980

50

1970

76

300TQ1000-18-110

300

1000

18

110

64

980

50

1970

77

200TQ400-60-132

200

400

60

132

53

980

28

2000

78

200TQ500-45-132

200

500

45

132

56

980

28

2000

79

200TQ500-55-132

200

500

55

132

55

980

28

2000

80

300TQ800-35-132

300

800

35

132

63

980

42

2000

81

300TQ1000-22-132

300

1000

22

132

64

980

50

2000

82

200TQ650-52-160

200

650

52

160

58

980

28

2650

83

300TQ780-50-185

300

780

50

185

60

980

38

3330

84

250TQ600-55-200

250

600

55

200

62

980

28

4080

85

300TQ800-55-220

300

800

55

220

60

980

38

3400

86

350TQ1250-35-220

350

1250

35

220

65

980

45

3400

87

350TQ1750-30-250

350

1750

30

250

70

980

55

3750

88

350TQ1500-35-250

350

1500

35

250

70

980

50

3750

89

350TQ1750-40-315

350

1750

40

315

70

980

55

4200

90

400TQ2000-35-315

400

2000

35

315

72

980

60

3800
---
---
TH Cantilevered, Horizontal, Centrifugal Slurry Pump Material:
| | | |
| --- | --- | --- |
| Material Code | Material Description | Application Components |
| A05 | 23%-30% Cr White Iron | Impeller, liners, expeller, expeller ring, stuffing box |
| A07 | 14%-18% Cr White Iron | Impeller, liners |
| A49 | 27%-29% Cr Low Carbon White Iron | Impeller, liners |
| A33 | 33% Cr Erosions & Corrosion Resistance White Iron | Impeller, liners |
| R55 | Natural Rubber | Impeller, liners |
| R33 | Natural Rubber | Impeller, liners |
| R26 | Natural Rubber | Impeller, liners |
| R08 | Natural Rubber | Impeller, liners |
| U01 | Polyurethane | Impeller, liners |
| G01 | Grey Iron | Frame plate, cover plate, expeller, expeller ring, bearing house, base |
| D21 | Ductile Iron | Frame plate, cover plate, bearing house, base |
| E05 | Carbon Steel | Shaft |
| C21 | Stainless Steel, 4Cr13 | Shaft sleeve, lantern ring, lantern restrictor, neck ring, gland bolt |
| C22 | Stainless Steel, 304SS | Shaft sleeve, lantern ring, lantern restrictor, neck ring, gland bolt |
| C23 | Stainless Steel, 316SS | Shaft sleeve, lantern ring, lantern restrictor, neck ring, gland bolt |
| S21 | Butyl Rubber | Joint rings, joint seals |
| S01 | EPDM Rubber | Joint rings, joint seals |
| S10 | Nitrile | Joint rings, joint seals |
| S31 | Hypalon | Impeller, liners, expeller ring, expeller, joint rings, joint seals |
| S44/K S42 | Neoprene | Impeller, liners, Joint rings, joint seals |
| S50 | Viton | Joint rings, joint seals |